Printer-friendly version
Send by email
February 25, 2015 by Paul DeRienzo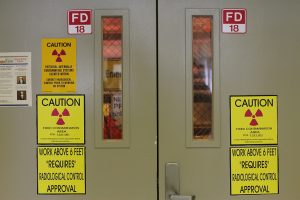 Door to a contaminated area in the T Plant at the Hanford Reach National Monument. By Paul DeRienzo.
Among the items in the $600 billion National Defense Authorization Act passed by Congress last year is a measure establishing the Manhattan Project National Historical Park, which encompasses three sites central to the development of nuclear weapons.
Supporters see the park — a monument to the Manhattan Project, the super-secret wartime effort that built the atomic bombs dropped on Hiroshima and Nagasaki in August 1945 and killed 200,000 people—as a long-neglected commemoration of the bomb project. The Advisory Council on Historic Preservation reported in 2001 that the development and use of the atomic bomb during World War II was "the single most significant event of the 20th century."
Located at Los Alamos, New Mexico; Oak Ridge, Tennessee; and Hanford, Washington, the park will be jointly run by the National Park Service and the Department of Energy. U.S. senators from the three states involved sponsored the legislation, but notably, the park itself was left unfunded.
***
Former Ohio Congressman Dennis Kucinich, a vocal opponent of commemorating the Manhattan Project, had blocked passage of the park proposal until he lost his 2012 re-election bid. Responding to the park's supporters, who claim the monument is a celebration of technological achievement and not the bombing of civilians, Kucinich replied: "The technology which created the bomb cannot be separated from the horror which the bomb created."